Convr Invests in Knowledge Sharing Through Convr U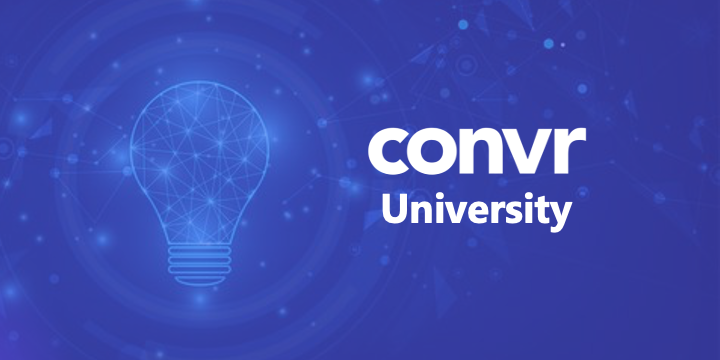 Insurance industry knowledge . . . key product information . . . career development and training—it's all part of Convr's colleague training programming dubbed, "Convr U."

The spotlight shines on the program each quarter, as Convr U unites team members from around the globe at our home office in Schamburg, Illinois. The in-person program is saturated with trainings that span several days and are jampacked with tried-and-true topics that best support our engineering, customer success and business development teams.

What is Convr U?
Convr U is the go-to source for everything that has to do with training and development to help us improve and advance work performance between colleagues and with customers. In real-time and in shared space, the Convr team unites to collaborate and share content that will continue to help us grow and advance as individuals and as an organization. That same content is then resident in our Convr University Notion pages for future reference.

The program started to come together in spring of 2022 when our engineers built a Notion page with the intention of cascading key product information to new hires and team members. We all know it can take a lot of time and effort to document product knowledge, especially when it is consistently evolving. While the idea for Convr U was originally intended to aid teams in onboarding, it quickly transformed into something bigger.

While onsite this quarter, the teams took away thoughts on several topics. Here's a summary of several key takeaways:

Artificial Intelligence (AI)
AI can be categorized into several different types of AI based on their capabilities and applications. And the rate of change with AI is substantial. Our team outlined what Convr is doing to ensure our machine learning (ML) models and AI can . . .

Leverage several types of AI and ML capabilities embedded in products and features across our platform. Some examples include Assistive AI, Natural Language Processing (NLP), and computer vision models in our Intake AI product, deep learning models to predict future risk in our Risk Scores AI product, non-contextual large language models (LLM) in our Answers AI offering, among others.
Help Convr advance. These models are constantly evolving and as an organization, we can benefit from advancements in AI and must continue to work to stay on top of what is emerging.

The team also covered the following topics:
Power User/Admin Console
Empowering sophisticated users, as "power users" allows for more self-service capabilities
Reducing friction in making configuration changes with quicker turnaround time
Providing end users with greater transparency – specifically data sources, lineage, and update frequency – with a comprehensive data catalog. We understand the underwriting philosophy of "trust but verify" and want to empower users to do so within our platform–one of the benefits of being "built by underwriters for underwriters"
Intake AI – Confidence Scoring, Accuracy, Feedback Loop
Tech/AI must be reliable enough to be used in a production environment–equal to or better than humans alone
The Convr confidence scoring rules and AI tuning feedback loop support dynamic assistants/assistive AI are essential to the AI tuning feedback loop that distinguishes our capabilities

MCA and Dynamic Underwriting
Dynamic Underwriting leverages Convr's depth of digitized/structured data and underwriting workbench capabilities in an automated way to significantly reduce manual effort by automatically surfacing any changes in risk characteristics at account renewal
Competitive Landscape
The market is getting more crowded, Convr will continue to push through and clarify how we're the number one brand to be trusted with digitizing, automating, and informing the underwriting experience for commercial organizations

We know knowledge gives our team more power to improve our customer experiences and allows team members to meet with customers with more confidence.

Convr U doesn't end with in-person learning sessions at our home office. We cover more learning and development through internal webinars and workshops, product marketing brainstorms and live product demos—our Convr U programming serves as the think tank for all things learning and supports the growth mindset that Convr applies to every aspect of our business.